May 24, 2006
BROOKLYN--and I almost kissed the ground at LaGuardia. Hooray East Coast!
It's slowing down, finally, because I can't take any more half-slept mornings. I want my Jivamukti yoga. I want to record my Grandma's Mini album. I want to go for a jog in the Park. I want to jam out on my new VOX AMP (pictures to come, promise!) This baby--at five watts--goes from clean to crunchy with one little turn of the knob. I LOVE IT! Can't wait to start playing with them knobs.
My favorite Park Slope coffee house, Heights Coffee, is closed, so I'm hanging out at Prospect Perk Cafe. It's cute as a button and the size of an East Village apartment. The Ghostface Killah is dope. The guy working the counter is strange but very nice. Tomorrow: it's a return to my coffeehouse.
I can't wait until one of these joints gets that hyper coffee...
Send me some fodder! Be a guest poster to Lassie's Lair and fulfill your publishing fantasies. E-mail me your glorious words and I'll post them for all the world to see. Anonymous postings welcome!
May 22, 2006
CHICAGO--Here I am, hair smelling like trans-fat free, deep-fried catfish at the National Restaurant Association's show. There's no kangaroo meat left, and I've had more samples of hyper-caffeinated coffee (yes, there is such a thing, made by Boyd Coffee and Shock Coffee) than my body can stand.
I hear there's sun outside the McCormick Convention Center, but I'm unbelieving ...
So, while I need to be Ms. Professional Reporter at the show, I totally need to dish about the absolute most amazing discovery: Tab Energy. Made by Coca-Cola Co., I had my first plastic shot glass of the cotton-candy colored stuff yesterday, when I went to interview Coke about soda trends. I won't say which new beverages I didn't like, only that I MUST BUY A CASE OF TAB ENERGY THE SECOND I RETURN TO BROOKLYN.
I don't know what's in it, but it's calorie- and carb-free, less sweet than sugar-free red bull, and absolutely has made me a convert to the whole "energy" phenomenon.
It's all about nursing the addiction, one metal pink can at a time...
May 17, 2006
"One woman's trash is another woman's treasure."
So said Charlotte in a Sex in the City episode.
Lately, though, it's become the theme of my life. It's amazing the people we push away are coveted by others, waiting and watching in the sidelines. It's also amazing the wasy in which we throw other people (and their emotions) away, only to go chasing after them once we realize that trash truck contains pots of gold.
On both counts, I am guilty.
Oy vey!
On a lighter note -- even though I really should be concerned about wireless tapping right now -- I wanted to show the world that I HAVE CELEBRITIES AT MY PARTIES. See the 'Project Runway' Daniel, below:
May 15, 2006 PM UPDATE
An excerpt from the AP:
WASHINGTON - National Guard troops tapped for duty on the border with Mexico will not chase down illegal immigrants but instead will play behind-the-scenes roles in support of border guards, officials said Monday. Among the tasks they are likely to perform over the coming year: training federal Border Patrol guards, building barriers near the border, improving roadways, providing support for aerial and ground surveillance, analyzing and sharing intelligence, and providing communications systems and transportation, the officials said.
May 15, 2006
Everybody tune in tonight ...
President Bush is putting our national guard at the border. Sure, it isn't the same as building an electrical fence. Yes, there is the biggest rich-poor contrast of any two neighboring countries in as there is in the Mexico-U.S. adjacency. Yes, immigration is a *problem* and NO, I don't have the answer... yet. Not ready for debate. But it's still a bit disturbing.
Here's an excerpt:
Bush is to call for the troops to play a supportive role to Border Patrol agents, who would maintain primary responsibility for physically guarding the border. Bush also will mention the need for immigrants to learn English and assimilate into American culture if they are to become citizens.
But lawmakers have expressed concern about overextending a National Guard force that is already tied up in Iraq. And Mexican President Vicente Fox called Bush Sunday to express concern about what he called the possibility of a ``militarized'' border between the two nations.
On Monday, White House counselor Dan Bartlett said the move does not represent ``a militarization of the borders.''
Appearing on CBS's ``The Early Show,'' Bartlett said Guard forces sent to the area ``will not have law enforcmeent responsibilities or powers. They will be there in a supportive role. ... It's about a constitutional responsibility to enforce our borders.''
May 12, 2006
Gold Lion's gonna tell me where the light is ...
The new YYY's album is so SO GOOD!! I was working from a remote non-Brooklyn location this morning (with a great view!) and I decided to compulsively purchase it. And, 3:23 p.m. I'm listening to it for like, the eighth time. Cracked out on coffee. Smacked out on life.
If you haven't yet, check out the Washington Examiner. I do the "Good Day" listings on Page 2. Baltimore, too.
Still, I'm feeling Karen O envy, listening to "Show Your Bones."
So ... I'll post another one from the vault of the W-off, me and my best friend J-Sin.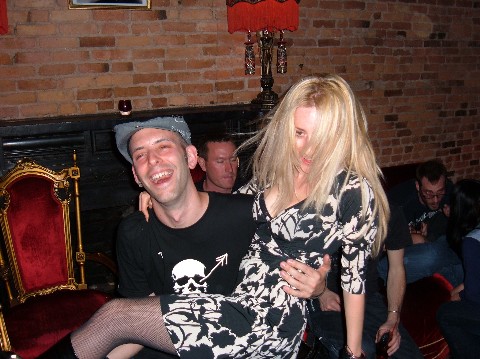 May 10, 2006
Don't forget to send your mother's day cards, ladies (and gents).
For all those who attended our *birthday* extravaganza, thank you for making it fun and exciting. Personally, my life is at an all-time high -- I mean, who knew I'd move to New York, become a freelance writer, and have Reality TV celebs at my birthday party? (yes, Project Runway's Daniel, the guy who did the Orchid outfit, hung out at Madame X with the rest of us)!.
Jake won the w-off, FYI. Don't ask how. ;)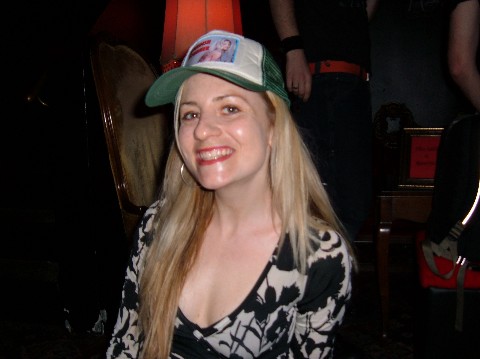 May 7, 2006
Lassie's Lair is experiencing some changes of the monumental variety. Stay tuned while this blogette updates herself. She'll be back in no time. Kiss Kiss!!