March 26, 2008
Wow, what a crazy last couple of weeks ...
I had a birthday, scored a guitar thanks to being part of Girls Rock & Girls Rule, and lost a big, fat freelance contract.
Economy woes, much?
Damn you, Georgie.
Seriously, I thought about joining the blocks and blocks of protestors on 14th Street this past Saturday who demonstrated on the fifth anniversary of "Operation Iraqi Freedom." (Remember that moniker?) Clever little moniker. Got people actually thinkin we were superheroes or something.
One most brilliant speakers I've ever seen, Henry Rollins traced the Iraqi angst back to Paul Brenner's decision to fire the Bathist army for being loyal to Sadaam. In turn, this put millions of men with families out of work. Now, if I'm bitter at George Bush because of lost work, can you imagine how a bunch of guys are gonna feel? Like kicking some American ass!
Okay, onto more serious news: this poledancing piece rocks. Read it and peruse the accompanying photo essay. :)
March 20, 2008
The air is filled with madness.
Bear-Stearns' collapse, the eve of the Iraq invasion (and yes, the second-to-last protest I attended, shame on me!), the economy ...
March 15, 2008
I realize some of you who met me at last night's "This is Burlesque" Corio show may be waiting for my tribute blog to Mr. Murray Hill, the hardest-working man in showbiz. But unfornately, this poor little freelancer is too busy to blog ... and I'm a little bummed that Jersey Boy and Ursula beat me out for the Mary Blige CD in the Britney Spears danceoff.
So I thought I'd drop in this publicity shot. It's a fun pic, but doesn't even come close to doing Murray and Angie Pontani justice.
Murray is hysterical; Angie is, without a doubt, the sexiest Italian in Brooklyn by way of Jersey.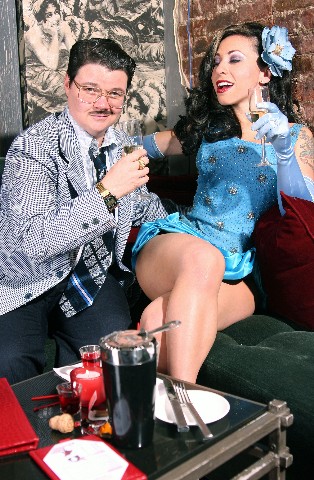 March 9, 2008
Venuszine takes a crack at defining "The 50 Greatest Female Guitarists of All Time."
And rightfully so, Jennifer Batton, Carrie Brownstein and PJ Harvey cracked the list. Though I love Liz Phair with all my heart, is she really a great guitarist? I mean, she's an okay guitarist. She's better than me, for sure. But great? Can we really put her in the same category as Nancy Wilson and Jennifer Batton?
March 8, 2008
On a recent trip to Virginia, I fell in love with a young man named Sebastian. A total cutie pie, and my mom couldn't agree more -- check him out!