Jan. 31, 2007
I almost forgot to wish Rebecca (of the East) a HAPPY BIRTHDAY!
And I forgot to mention: I finally went to the top of the Empire State Building! From the top, I could see all of Manhattan, all around -- and a bit of Jersey. Central Park looked like a big jungle of brush, Midtown and downtown buildings are tall, tall, tall. Cabs fleeted up and down avenues like ants on the street.
And The Hudson River/East River look the same. Jersey City appears to be some kind of L.A., and apparently, there's tons of smog from Jersey not because it's the armpit of America (it is), but because fast food is processed there.
Or so said the adorable native who served as my date/tour guide.
Jan. 30, 2007
January -- a month that has been nothing short of 100 percent amazing -- is drawing to a close.
Could I repeat one month for the rest of my life (like Bill Murray's Groundhog Day), this would be it. I am so full of gratitude for being able to write my most important personal essay yet, edit for my favorite (yes, my favorite!) women's magazine, and get hired as a freelance guitar teacher.
I haven't even mentioned the other gifts, like an all-girl band, an upcoming trip to Paris with the family 4, a best friend's wedding to plan, more friends than I could possibly imagine, winning the NYC Soccer Collective Rec championships.
So in closing out January with gratitude (and hope for a more peaceful Mid-East), I'd like to take the time to also post this picture of me, circa 2001, singing my guts out for my punk-pop threepiece Girls Without Skin.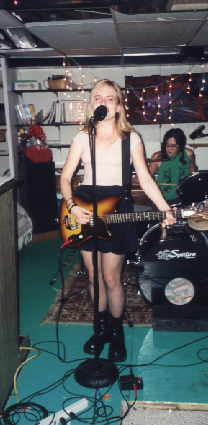 Jan. 26, 2007 P.S.: I lied.
There is no way I am escaping New York to go to D.C. for this weekend's protest -- though I am more convinced than ever that the "bipartisan resolution" is weak.
Good luck, my fellow activist friends.
And STAY WARM!
Over and out.
Jan. 22, 2007
Marisa, a celebrity blogger?
Yes, siree. I'm a paid now at Popcrunch, a blog for celebrity happenings. You can read my current post on Isaiah Washington there now. Unlike other celeb blogs (ahem, Perez Hilton), I won't be posting vapid news or diss female celebs who are suffering from real-life conditions like alcoholism and bullemia.
We're all human.
Instead, my goal is to offer insight and commentary on the celebrity news that has important parallels to the realities and struggles of humanity -- from rascism to sexism, to anorexia and homophobia. Translation: I'm less concerned about who made Ellen Pompeo's Golden Globes gown than I am about what Gisele B. thinks about the Brazilian "skinny model" crackdown.
Let me know what you think, and feel free to send suggestions here.
P.S.: I saw the amazing Las Rubias Del Norte -- a seven-piece Brooklyn band that plays Latin American classics using a multitude of instruments like the Quattro and the xylophone and is fronted by two opera-trained sirens. They're playing at Barbes tonight. Check them out ASAP.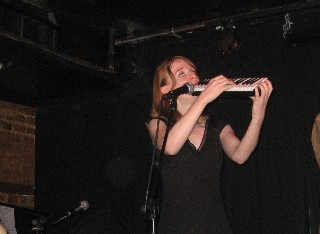 Jan. 17, 2007
It's so interesting, eating lunch in Gramercy on a bustling weekday.
This week, I'm copyediting for a high-end fashion magazine. Over lunch yesterday, I popped by Pax Wholesome foods for a salad and just sat back to observe -- theater gal across from me, having finished her soup, sat back to read a script; the little girls next to me donned high-end sneaks and Frye boots, black nail polish, and designer bags (Upper East Side daughters of models? One of them was gorgeous!); moderately fashion-conscious ladies chatting over salads.
So it's no surprised Harris Interactive released this study today, on kids and materialism. When you're a suburbanite/urbanite child of privilege (and nearly everyone who's white in D.C. and NYC really qualifies as such), you have the luxury of fantasizing about Dolce and Gabana gowns, new guitars, salads made of salmon-and-caviar shavings ...
Copyediting for an upscale fashion mag gives you free, designer water and baklava (which I don't eat, but I could), not to mention lots of quiet and interesting sights -- the office for this burgeoning, semi-independent/avant garde magazine is right next to a modeling agency.
The good news is I'm about to launch a new career -- a guitar school in Brooklyn hired me to be a traveling guitar teacher!! I am SUPER psyched about doing something that really gives back to the universe. I LOVE teaching guitar, spreading the gospel about the most amazing instrument in the world.
As for the protest in D.C.? Consider me there already. Ciao.
Jan. 14, 2007
Ah, gloomy Sunday ...
The kind of day where one takes a step back for personal reflection on new curtains, career ambitions, long-ignored eHarmony matchups, and politics.
Yes, politics.
I don't know what's gotten into me lately (a resurgence of green-party fever, perhaps?) but I'm starting to think like an activist again, caring for the planet and whatnot. And I can't stop reading stories about Iran, Iraq, broken and newly established alliances, Barrack Obama, Hillary, and John McCain.
I could give two hoots about Brangelina right now. What is this all about? Becoming a woman? Did my emotional clock finally catch up with my physical one?
Which brings me to the most bothersome (well, the second most bothersome, actually) quandary that's wracking my brain this weekend: Do I or do I not support this proposed troop increase?
And the decision: WILL I GO TO THE JAN. 27 PROTEST IN WASHINGTON, D.C.?????
Folks, some background: for two years I lived in a green-party artist/activist house with six other like-minded individuals. Yes, there were messy ones, clean freaks (me), lazy stoners (not me, seriously), and journalists. All but maybe two of us played roles in Washington Interns Gone Bad, and I was lucky enough to play the leading role as Becky the intern.
We threw parties, went to protests, supported each others' musical and artistic endeavors.
I learned how to compost, make protest signs, hang out with and feed activists, and engage in meaningful debates.
And while I truly love New York City with every bone in my body, I can't help but feel a nostalgia for that pure, energized period of my life pre- and post-WIGB. No, I don't miss being stuck inside a corporate office all day. But I miss that sense of "I can change things, I can participate" that made me feel valid and worthy.
So ... I guess I have a lot of thinking to do. Do I really have the money and time to go to the protest? Is it worth my money and time to travel eight hours roundtrip and stand in front of empty buildings? Or, can I put my activist cravings to better use, say, volunteering for a soup kitchen in the Bronx?
Lord only knows!
Jan. 10, 2007
More than 3,000 soldiers have died.
We deposed their dictator, let them hold their own free elections and establish their own government.
It's time to ween them off Mother America's Milk.
That's the crux of what Dick Durbin said in his official 'Democrat Response' to President Bush's officially revamped Stay-The-Course plan, announced tonight.
"the government must now prove it will make the hard political decisions to end this civil war," said Sen. Durbin. "It's time to begin the orderly redeployment of our troops."
Big words, yes, but will the (barely) Democrat-majority Congress actually band together vote against the president?
Maybe so.
"I don't doubt the president's sincerity in thinking this third or fourth approach is the right one," said Sen. Barrack Obama following the prezzie's big, 20-minute talk. "But I didn't see any evidence that 15 or 20,000 additional troops is going to make any sort of dent."
Ah Ö I can hear the protestors in D.C. all the way from Brooklyn. Good job, guys! See you soon.
Jan. 9, 2007
Scenario: You make the decision to follow your dream. You make a huge investment in money and resources. Times are tough at first, and then – success! The dough is rolling in, everyone loves you, and everything you ever worked for is materializing nicely. You envision an end to student loans, credit card debt, and missed vacations.
Reality Check: One by one, things start to fall apart. It's slow, at first. Calls aren't returned. Work lessens. The foundation you built is quickly eroding. One day you wake up, and realize you're in the same place you were a year ago. Sure, the circumstances have changed a bit – you've had a few key, calculated successes. But the viability/long term prospects of that great "dream" start to look shaky.
The question: Stay the course or abandon ship??
Sound familiar?
The same issues that plague me in light of my career choice obviously plague George Bush and Co. I'm talking about The Iraq Study Group Report, and the plans to send in more troops – a formal announcement is set for 9 p.m. EST tomorrow night (yours truly will be glued to CNN).
I'm not going to pretend I'm an expert on this subject. It's just something I've been thinking about since Saturday, when this lady from the Brooklyn Parents For Peace handed me a flier, advertising a cheap bus service to my D.C. hometown just in time for the Jan. 27 protest.
Were it 2003 – the year I penned "Barbie Goes To Protest" – I would've snapped to action at the chance. And I'm opposed to the war, no doubt.
It's clear, unfortunately, that what we've got going on in the Middle East is clearly not enough.
But is it really a good idea to not reinforce our troops in Iraq? Not doing anything isn't going to help. And the sectarian violence will only increase if we pull out completely. So really, there is no other choice.
Yes, it's a bit Republican of me to say I don't necessarily disagree with what George Bush might say tomorrow night. Of course, he has to say it first, this plan of his. Does that make me a terrible person?
At the very least, I'm using my brain – not just hopping on the next protest bus bound for Washington.
Jan. 2, 2007
Yo, happy new year.
Now, onto the resolutions:
Freelancing (the act of being a freelancer, especially one who works from home) is full of benefits.
The Best Part: Wearing your sweatpants all day. This prooved true just the other day when the "work clothes" I packed to change into after spending the night with a recent paramour consisted of a set of black velour sweatpants and a pink tank top. I made $200 from his couch, legs crossed, toiling away on my computer.
The Worst Part: Exactly that. Freelancing can make you slovenly, depressed even. Perhaps I should take it as a big hint that my mom just deposited money into my bank account to purchase some "nice" clothes, namely a suit. (Then again, she also gave me no less than four velour sweatsuits to keep me warm on a 24/7 basis: at night, in bed, during the day, and into the gym).
Christmas ended last week, but I've only worn one. ;)
Laziness, they say, gets the best of us creative types.
Which brings me to my big resolution: No more slovenliness. For real. Okay, maybe that's a bit of a stretch. After all, I will get sick at some point. But I am going to make an effort to do three things:
a.) Not wear the same sweatsuit three days in a row;
b.) actually step out of the house in the a.m. to get coffee/walk puppies/go to the gym/chase after a negligent lover/kiss the mailman;
c.) Try to actually change clothes at least twice in one day. For real.
I'm not alone in this. My roomie (whom I call Ally-bee) is a copy editrixie for a major women's Internet newsletter. All her lady editrix peers who telcommute are given the same instructions so as not to fall into Van Gogh-like depression bouts.
And they're better lassies for it.
Sitting in front of the computer isn't all that great, in all honesty. That doesn't mean I don't love the lazy lounging and spurts of inspiration without distraction (I do!), but it means that something else is going to have to make life a little less dull. I want to teach. To bartend. To take naughty sex classes and write about them for magazines.
Oh. Wait. Already doing that. Except you'll never know the gory details because I'm using a brand new pseudonym.
And I'll be trading the sweats for stilettos.