ABOUT US
Product Whore is a labor of love and the brainchild of three beauty product devotees -- Dorothea, Marisa and Lauren -- who spend a good chunk of their salaries on beauty products and wanted to know the truth.
They're also journalists by day, frustrated by the lack of real beauty journalism that exists on the Web and in magazines. Their mission: to review beauty products they buy extensively, and publish their scientific findings.
Unlike magazine editors, Product Whore staff DO NOT GET BEAUTY PRODUCTS FOR FREE from companies. Therefore (unlike magazines) we have NO ulterior motives.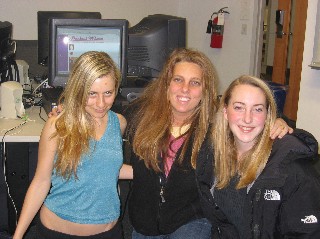 Fab threesome: Web mistresses Marisa, Lauren and Dorothea launch Product Whore.